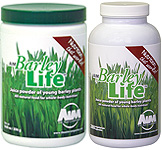 BarleyLife


You will feel the difference or your money back!

Made from the juice from young leaves of the barley plant, BarleyLife offers a phenominal array of concentrated naturally occuring nutrients. Barley juice contains 'naturally occurring' vitamins, minerals, enzymes, protein, chlorophyll, antioxidants and numerous other phytochemicals.


Video WebCast!

In whole-food form all the nutrients work together synergistically yielding results that simply cannot occur in the body from isolated vitamin/mineral supplements. There is absolutely no replacement for naturally occurring whole foods. Scientists have found this when studying phytochemicals. Scientists have learned that phytochemicals increase our resistance to disease and boost immunity. But scientists don't know why phytochemicals seem to lose their disease-fighting powers when they are isolated from the plant. Bottom line is God didn't provide us with flavonoid plants, superoxide dismutase plants, vitamin A plants etc. He provided us with plants loaded with all the nutrients needed to satisfy our mouths with good things so that our youth would be renewed like the eagles! Barley juice is God's provision for better health, more energy, greater endurance! Numerous scientific studies support barley juice health benefits and thousands of anecdotal reports confirm their findings.

BarleyLife was born out of improved patent-pending technology, the greener pristine polution-free fields and meticulous care to detail. BarleyLife provides us with a substantially better quality product that promises even greater benefits then the our previous barley juice powders. With all the good reports from our barley juice powder users over the years and the proven quality of BarleyLife we are very excited about the results you will see. Please, take advantage of our money back guarantee and give it a try. Use the entire jar and let us know your experience.
BarleyLife has a mild taste but is also available in capsules for those that don't want to mess with the powder.
Lots more on BarleyLife
Order BarleyLife Here.