Benefits

General tonic for the body

Antioxidant—beta carotene

Prevents cell degeneration

Easy assimilation

Special nutrition for skin, eyes

Convenient for consistent use

Features

Beta carotene & other carotenoids

Minerals, enzymes

Highest concentration of carrot juice

21,264 International Units of beta carotene per glass

Residue-free

14.1-oz (400 g) crystals
AIMJust Carrots™
AIMJust Carrots™ comes as freeze-dried crystals. The crystals are concentrated 25 times, which means that 25 pounds of raw carrots are used to make one pound of AIMJust Carrots™ crystals. AIMJust Carrots™ is 100 percent natural carrot juice crystals with only the fiber removed.
AIMJust Carrots™ has one of the highest sources of natural beta carotene—up to 420* percent of the Recommended Daily Allowance (RDA). Drinking one glass ofAIMJust Carrots™ provides you with 21,264* IUs of beta carotene. In addition to beta carotene, AIMJust Carrots™ contains vitamin C, calcium, potassium and a host of naturally occuring phytochemicals. AIMJust Carrots™ is monitored for maximum nutrient levels. A single serving of AIMJust Carrots™ crystals contains 43* calories.
When you eat raw carrots, only 1 percent of the beta carotene is absorbed by the body. Cooking breaks down the fibrous walls of carrots and increases the body's absorption to 19 percent. Approximately 90 percent of the beta carotene in AIMJust Carrots™ is absorbed.
The carrots used in AIMJust Carrots™ are residue-free, ensuring that you will not be getting harmful toxins. A special process is used to produce AIMJust Carrots™, which ensures that nutrients and enzymes remain active. This process does not use additives, sweeteners, fillers, or artificial ingredients to produce AIMJust Carrots™.
* These figures vary depending on variations in carrot crops due to climate, soil, and times of harvest.
How to use AIMJust Carrots™
Take 1 tbsp (12 g) 1 to 2 times a day. Mix with water, juice, or other members of the AIMGarden Trio ® (BarleyLife and Redibeets).

For best results, place AIMJust Carrots™ dry under the tongue.

Drink AIMJust Carrots™ immediately after mixing it.

AIMJust Carrots™ is best taken on an empty stomach: 30 minutes before or 2 hours after a meal.

You may use more or less depending on your or a health practitioner's assessment of your nutritional needs.

Shelf life is 2 to 3 years, unopened. Store in a cool, dry place (70° - 75° F; 20.1° - 23.8° C). Do not refrigerate.

You may mix AIMJust Carrots™ with other AIM products, except AIMHerbal Fiberblend®. Take AIMHerbal Fiberblend® 1 hour before or 30 minutes after taking AIMJust Carrots™ crystals.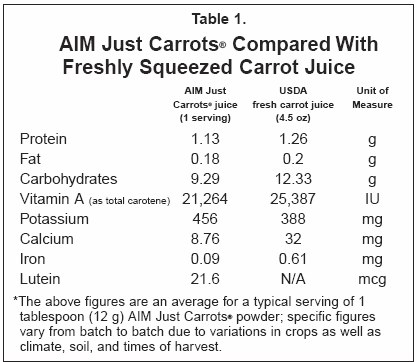 Nutrient Information*
*The above figures are an average; specific figures vary from batch to batch due to variations in crops due to climate, soil, and times of harvest. There are hundreds of naturally occuring phytochemicals in Just Carrots. Listed here are only a few nutrients that are tested.
Suggested Reading
Blauer, Stephen. The Juicing Book. Garden City Park, NY: Avery Publishing Group. 1989.
Passwater, Richard A., Ph.D. Beta-Carotene. New Canaan, CT: Keats Publishing, Inc. 1984.
Passwater, Richard A., Ph.D. Beta-Carotene and Other Carotenoids. New Canaan, CT: Keats Publishing, Inc. 1996.
Walker, N.W., D.Sc. Fresh Vegetable and Fruit Juices. Prescott, AZ: Norwalk Press. 1970.
See AIM BarleyLife ™ or ™RediBeets for more information on these great juice products.
Leave us Your Questions or Comments Online